Huw Watkins was born in Wales in 1976. He studied piano with Peter Lawson at Chetham's School of Music, and composition with Robin Holloway, Alexander Goehr, and Julian Anderson at Cambridge and the Royal College of Music. In 2001, he was awarded the Constant and Kit Lambert Junior Fellowship at the Royal College of Music, and he has taught composition at both the RCM and the Royal Academy of Music.
What an amazing musician Watkins is, this unfailingly dependable and musical pianist who seems to be everywhere. If he caught a cold most of Britain's summer festival season would collapse.

The Telegraph
Watkins's growing body of orchestral works includes the widely acclaimed Violin Concerto (2010) and two commissions from the London Symphony Orchestra: London Concerto (2005) and the Flute Concerto (2013). His longstanding relationship with BBCNOW has resulted in a number of works, including a Piano Concerto (2002) and a Double Concerto (2005). More recently, as Composer in Association (2015-2019), Watkins wrote a Cello Concerto (2016) for his brother, cellist Paul Watkins, and The Moon (2019) for chorus and orchestra. Watkins has written two symphonies for the Hallé Orchestra and Sir Mark Elder, the second of which won the South Bank Sky Arts Award for classical music in 2022.
A wealth of chamber music is central to Watkins' output, complementing his parallel career as a pianist. Long-time supporters, the Nash Ensemble have commissioned several works, and he has written string quartets for the Belcea, Carducci and Calidore quartets. Among works for his brother, Paul Watkins is Blue Shadows Fall (2012-13), commissioned by Chamber Music Society of Lincoln Center, who also co-commissioned Watkins' Piano Quintet (2018) with Wigmore Hall.
Watkins' vocal works include In my craft or sullen art (2007) for tenor and string quartet and Five Larkin Songs (2009-10) for soprano and piano, which won a British Composer Award. In 2017, Watkins was commissioned by King's College, Cambridge, to write a carol for the Festival of Nine Lessons and Carols.
As pianist, Watkins has appeared as soloist with the BBC Symphony Orchestra, the Britten Sinfonia, and the London Sinfonietta, and performs throughout Europe and North America as soloist and chamber musician. Many composers have written concertos for him, including Philip Cashian, Tansy Davies and Helen Grime. He records for labels such as Signum, Chandos and BIS with regular collaborators Tamsin Waley Cohen, Ruby Hughes and Adam Walker. Watkins was appointed Member of the Order of the British Empire (MBE) in the 2021 Birthday Honours for services to music.
Representation: General Management
Contact: Laura Tear
British Works for Cello and Piano, vol. 1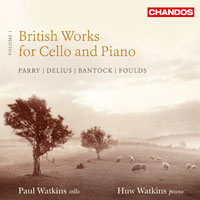 British Works for Cello and Piano, vol. 2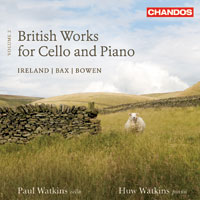 British Works for Cello and Piano, vol. 3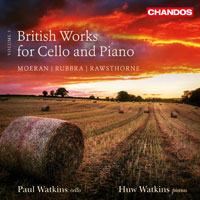 British Works for Cello and Piano, vol. 4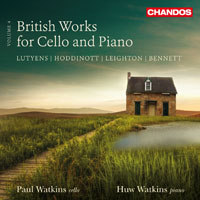 For additional info and reviews, please visit Chandos Records.