OWEN GUNNELL
TOBY KEARNEY
Described by The Daily Telegraph as 'brimming with style and panache', alongside international performances, in recent years O Duo has won a Special Commissioning Award from the Borletti-Buitoni Trust and been appointed Artistic Directors of the Children's Classic Concerts series in Scotland revealing their artistic quality, passion for commissioning new repertoire and dedication to education work.
Renowned for their 'phenomenal artistry' (The Daily Telegraph), O Duo has performed across the world. Highlights include appearing twice at the BBC Proms, at the Last Night of the Proms in Hyde Park and most recently to give the premiere of Wilful Chants by Stephen Montague with the BBC Symphony Chorus, recitals at the Wigmore Hall, Cheltenham and City of London Festivals. O Duo gave the premiere of Stephen McNeff's Concert O-Duo at the Barbican as part of BBC Symphony Orchestra's 80th birthday concert, and has performed an eclectic repertoire including Bartók's Sonata with Artur Pizzarro and Vita Panomariovaite, and music by Moondog (the iconic American composer) at the Barbican.
Concert appearances further afield include performances at the Al Bustan, Harare and Mexico City Festivals and in Paris, Madrid, Lucerne, Zug, and Seinajoki, and tours to Germany and Bulgaria. Orchestral performances include concerto appearances with the BBC Philharmonic, Royal Scottish National Orchestra, London Philharmonic and Philharmonia Orchestras. In 2013 O Duo gave the world premiere of Fraser Trainer's new percussion concerto firstly with Sinfonia ViVA and then with the Melbourne Symphony Orchestra. Their successful appearance in Melbourne included a series of concerts and innovative interactive workshops for children.
O Duo was formed in 2000 by Owen Gunnell and Oliver Cox which were both scholars at the Royal College of Music. In 2018 Toby Kearney joined O Duo. Owen and Toby have so far performed at BBC Proms, Wells Cathedral School and are featured in a CBBC TV programme.
O Duo released their first CD on the Sony BMG label in 2007 to critical acclaim, including being featured as CD of the week in The Daily Telegraph. Making a great impact on the UK music scene, O Duo has broadcast with BBC Radio 2 and 3, Classic FM, and recorded with the BBC Symphony Chorus. Furthermore, as outstanding communicators, O Duo has worked at Abbey Road and Sony studios on television and film scores and broadcast on Channel 4 and BBC Television.
O Duo take a keen interest in education work. They have given workshops and concerts in schools and special needs centres throughout the UK, and led creative education projects involving composition and performance with the London Sinfonietta, Philharmonia Orchestra and Sinfonia ViVA. O Duo has given children's concerts throughout Scotland including at the Royal Concert Hall in Glasgow and Queen's Hall Edinburgh with the Royal Scottish National Orchestra, Orchestra of Scottish Opera and special guests.
O Duo's repertoire spans more than 300 years and is an invigorating mix of popular classics and accessible contemporary music played on two marimbas, vibraphone and a huge array of percussion. They continue to be passionate about commissioning new work and expanding the percussion duo repertoire.
Recent performances include children's performances at Wigmore Hall, a collaboration with the BBC Singers, an artistic and theatrical bonanza at the Luxembourg Philharmonie, concerts in Hong Kong and recitals at various venues and Festivals in the UK and Scotland.
In 2016 O Duo's second CD was released on the Champs Hill Label.
Representation: General Management
Contact: Laura Tear
O Duo: Searching
The duo's latest CD, featuring original works by ourselves, alongside masterpieces by Vivaldi, Bach, Albeniz and Philip Glass arranged for percussion duo.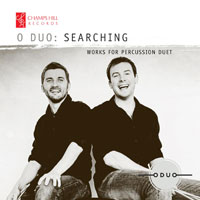 O Duo
The duo's first album. A selection of classical arrangements of keyboard works by Bach, Mendelssohn, Chopin and others. Also featuring contemporary works for percussion duo by Minoru Miki, Jacob ter Veldhuis and Stephen McNeff.